Free & Fast Shipping Over $50
180-day Free Returns & Exchanges
Premium Quality Materials
Rated Excellent
4.9 (594 reviews)
Daughter | Special Star | 925 Silver Necklace
$79.95
$39.95
Fair Pricing
AWARENESS AVENUE, WHY CAN I BUY UNIQUE AND HIGH-QUALITY JEWELRY AT YOUR STORE AT ONLY A FRACTION OF THE PRICE?
Most jewelry brands markup their products 8-10x the actual cost. We produce our own products, we've built relationships with the best manufacturers, and sell directly to you. Our jewelry is handcrafted with the same top materials and quality craftsmanship as other luxury jewelry brands but without the traditional markups.
Free 180-day Returns & Exchanges
Premium Quality Materials
Lifetime Quality Guarantee
Free 180-day Returns & Exchanges
Commited to Sustainability
Shipping Policy
FREE WORLDWIDE SHIPPING OVER

$50
We ship orders over $50 for FREE worldwide, expedited and tracked.
Welcome to Awareness Avenue
As soon as your order is placed our team goes hard to work at sourcing, quality-managing and shipping your new amazing jewelry straight to your doorstep. Please be aware that our jewelry with text takes an additional 24 hours to source, because we must engrave it after you order. Our items are NOT mass produced.
You can expect your unique jewelry within 8-14 business days after ordering. At peak demand times, orders may take slightly longer to arrive.


Tracking information.
All orders are secured, insured and tracked with a live-status tracking ID. This means you can follow your order every step of the way. If for whatever technical reason you do not automatically receive your tracking information via email a few days after ordering; please do not hesitate to contact us on support@awareness-avenue.com. Please allow 24-72 hours before a tracking number is available.


Shipping rate(s).
Here at Awareness Avenue we have a flat shipping rate of 4.95$ USD for all orders under 50$ USD. Any order above 50$ USD will be eligible for free shipping.


Shipping policy.
Awareness Avenue is not responsible if a package is not deliverable due to missing, incomplete, or incorrect destination information. Please take great care to enter the correct shipping details when at check out.
However we always aim to strive for customer satisfaction and we want you to have a good experience with our company. Therefor if there has been some mistake or error regarding delivery, please contact us and we will work something out to make sure you have a good experience.


In case of error.

If you realize you have made an error, e-mail us as soon as possible on support@awareness-avenue.com explaining the error and provide the correct information. We will assist you in any way we can - however please understand that if the package has already been shipped that we are often unable to alter the destination address at this stage.
We will however attempt to do anything within our power to assist in every situation - we are here to help you.

The Awareness Avenue: Lifetime Shine Warrantyy
Our promise:
If any Awareness Avenue product suffers degradation in quality, shine, or appearance, we offer our customers a complete lifetime warranty that ensures worry- free product endurance so you can enjoy beautiful results every time.
This warranty includes a complimentary replacement or the free dispatch of a jewellery piece similar to the original price- as per your preference.
How it works:
Sometimes the shine and appearance of your jewellery can fade over time. In the very rare instance when the restoration process, as described in our article: "How to Restore Your Awareness Avenue Jewellery", is ineffective, your jewellery is automatically eligible for our Lifetime Shine Warranty.
Our commitment to providing a superb customer experience and high-quality products is our number one priority.
We create durable and long-lasting jewellery and are accommodating if- for whatever reason, our materials fail to meet quality standards.
The Lifetime Shine Warranty applies to orders older than 181 days or more. For those orders placed within the past 180 days, our Satisfaction Guarantee applies as described on the "180-Day Customer Satisfaction Guarantee" page.
What are my options now?
If your jewellery is eligible under this warranty and you'd like to make use of it, please don't hesitate to contact us at: support@awareness-avenue.com and we will offer one of the following resolutions:
We'll replace your original order free of charge.

If you choose to replace your initial order with a lower-priced item, we will refund the difference.

If you choose to replace your initial order with a higher-priced item, we will waive the additional cost of up to $10.
We ship all replacement orders free of charge.
If you have any further questions, please do not hesitate to contact us. We aim to respond to all inquiries within 24 hours.
180-Day Satisfaction Guarantee
Our promise
Awareness Avenue offers all our customers a complete 180-Day Replacement Guarantee.
Superior customer service:
Dear valued customers,
Here at Awareness Avenue, we make a special effort to always go the extra mile for you, your friends, and your family.
Without you, we wouldn't be here! Thanks to our loyal customers, we can now make a positive difference in the world with our various donation programs.
Words cannot express how grateful we are for this opportunity to give back.
So, for you, we have created the 180-Day Customer Satisfaction Guarantee policy. This promise ensures we do everything we can to make your experience with us as seamless as possible.
Our goal
The intention here is simple: we want you to be happy with your shopping experience with us. If for whatever reason, you are not satisfied with your initial purchase, we will attempt the following procedures:
Item not as expected?

We'll recommend a different item and ship it to you completely free of charge. You'll get to keep your original item, and we'll refund the difference.

If you choose an item that is priced higher than the original, we will not charge extra, as long as the increased price is up to $10.

Product damaged upon arrival?

Deliveries are out of our control, and very rarely products can be damaged during transit. If this happens, we sincerely apologise and will re-deliver your item with express shipping.

Parcel lost during transit?

In the rare instance when this happens we will either replace the item with express shipping or refund the total amount to you - whichever solution you prefer.

Need to cancel your order?

If you change your mind, please notify us at: support@awareness-avenue.com within 24 hours of your order.

Please note- we ship most orders within 24 hours, and cannot guarantee immediate cancellation. We will therefore endeavour to assist you with the next steps.
These are just example scenarios, and we wish to clarify that anytime you are not happy with your purchase, we will do everything we can to assist you.
Need a refund?
We respect your right to change your mind and are committed to customer care, so we can offer you the following resolutions:
A partial refund of your order; you get to keep the item and we will not ask you to return it.
A full refund of your order; we offer a free returns policy and, upon receiving your returned order, will process the full refund immediately.
Remember, there is always the option to choose an entirely different item from our store or have one recommended to you. We will ship this item completely free of charge without asking you to return your initial order. .
We hope you are confident our resolution process ensures you are provided with the ultimate customer experience.
If you have any questions please do not hesitate to contact our experienced customer service team at: support@awareness-avenue.com.
Sustainability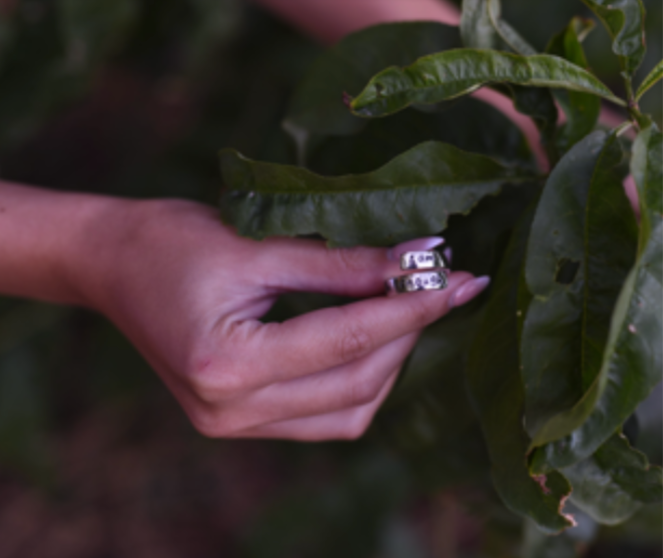 OUR IMPACT
"Fine, fair, empowering jewellery" with sustainability in mind is at the core of our hearts. In a world of mass produce, you'll love to hear what we stand for.
Our 5 pillars of Sustainability:
Durability & Longevity in products: We use only the highest quality materials — for products you'll enjoy for years (if not a lifetime). Not just typical 925 silver, our unique silver composition is enhanced with the high-grade chromium making it shinier, stronger, scratch, fade and tarnish resistant and 100% allergen-free.
Our entire production ecosystem— including sourcing, handcrafting, and packaging—aims to mitigate our impact on the environment, support and empower our partners, and give back to our communities. We know how our materials are sourced and processed, and the fair working conditions they were made in.
Recycled base materials where possible: Our solid gold and sterling silver pieces are made with 100% recycled gold and silver.
Bought this necklace for my Granddaughter, she absolutely loved it, it's stunning, great quality and way beyond what I was expecting, will definitely be buying again.
About this necklace

Only adjustable rings

Handcrafted & Ethically Sourced

Water Resistant Coating Process

Durable & Made to Last

Skin-friendly & Non-allergenic

Imagine the sparkle in your favourite little girl's eyes when she sees this adorable star ring necklace. She will be overjoyed as she realizes how much thought went into this meaningful piece of jewellery.

Whether you give it as a gift to your daughter, or granddaughter this heartwarming piece of jewellery is sure to hold special meaning as they wear it close to their heart.

Why buy from us?:

Let your daughter/granddaughter know you love her.

 

Our beautiful Star Ring Necklace is the perfect way to express your everlasting love.


No tarnishing ever & no ugly marks! Our necklaces are crafted from

 

pure & certified 100% 925 sterling silver

 

(everyone else uses steel!). They will never tarnish or fade, they will never leave any black or green marks and they will never cause any allergy or redness. They are beautiful, of very quality and also the best price on the market.


Adjustable chains. Worried about if it will fit your daughter/granddaughter? You don't have to! We have adjusted all of our chains with an additional 10cm of optional length to suit any wearer of our love knot necklaces.


High-quality gemstones. We only use AAA high-quality cubic zirconia for our jewellery to give you the best possible experience. It might not be a Swarovski crystal, but we promise it will be just as beautiful & last a lifetime


FREE message card included

 

with every order and the option to include a premium box for a luxury gift experience.

PACKAGING OPTIONS:

All of our gift necklaces have the following 2 packaging options:

By default, all of our gift necklaces are delivered with a standard very pretty gift box. This option is absolutely free of charge.


We also offer the more luxurious Mahogany Wood Gift Box. It will cost a little extra, but it is also sure to elevate the experience to amazing heights. Your daughter/granddaughter will absolutely love it.

Our 925 Sterling Silver Authenticity Certificate:

A lot of metal out there is marketed as Pure 925 Sterling Silver, but actually, those jewellery pieces are rarely produced by a company with an authenticity certificate, which means the metal most likely is not pure.

We like to show our customers our certificate so you can rest assured that what you see is what you get. We stand 100% behind our pieces and we believe you will absolutely love them. All of our pieces are backed by our warranty which you can read about below.

Jewelry Care

To ensure the longevity and beauty of your cherished pieces, it's essential to properly clean and care for your jewelry. Follow our expert recommendations below for maintaining the sparkle and shine of your precious items.

Cleaning Jewelry WITHOUT Engravings:

Gather the following materials for a gentle and effective cleaning process:

A soft, clean cotton cloth or lint-free microfiber cloth
A small bowl or container filled with lukewarm water
A mild dish soap (optional)

Follow these simple steps for a thorough yet gentle cleaning process:

If your jewelry is particularly dirty or has stubborn residues, add a few drops of mild dish soap to the lukewarm water and mix until suds form.
Submerge your jewelry in the soapy water, ensuring it is fully covered.
Allow the jewelry to soak for approximately five minutes. This will help loosen any dirt or debris.
Remove the jewelry from the water and gently wipe it with the soft cotton or microfiber cloth, paying close attention to crevices and intricate details.
Rinse the jewelry in clean water to remove any soap residue.
Carefully dry the jewelry using a fresh, soft cloth. Make sure the item is completely dry before storing or wearing it.

Cleaning Jewelry WITH Engravings:

To protect the delicate details of your engraved jewelry, avoid submerging it in water. Instead, use the following method for gentle yet effective cleaning:




Gather these materials for a careful cleaning process:

A soft, clean cotton cloth or lint-free microfiber cloth
A small bowl or container filled with lukewarm water
A mild dish soap (optional)
A soft-bristled toothbrush or a cotton swab for hard-to-reach areas (optional)




Follow these steps to clean your engraved jewelry without causing damage:

If your jewelry is particularly dirty or has stubborn residues, add a few drops of mild dish soap to the lukewarm water and mix until suds form.
Dampen your soft cloth with the soapy water, ensuring it is not overly saturated. You want the cloth to be damp, not dripping wet.
Gently wipe the surface of the jewelry, paying special attention to the engraved areas. Be sure to use gentle, circular motions to avoid scratching the piece.
For intricate engravings or hard-to-reach areas, use a soft-bristled toothbrush or cotton swab dipped in the soapy water. Gently brush or dab the area to lift away dirt and debris.
Once the jewelry is clean, use a fresh, damp cloth to remove any remaining soap residue. Again, be sure the cloth is damp, not dripping wet.
Carefully dry the jewelry using a fresh, soft cloth. Make sure to remove all moisture, especially from the engraved areas, as trapped moisture can cause tarnish or damage over time. Ensure the item is completely dry before storing or wearing it.




Additional Jewelry Care Tips:

Store your jewelry in a cool, dry place, preferably in individual soft pouches or lined jewelry boxes to prevent scratches and tangling.
Remove your jewelry when swimming, showering, or engaging in activities that may expose it to chemicals or abrasives.
Put on your jewelry after applying makeup, hairspray, or perfume to minimize contact with potentially harmful substances.
Regularly inspect your jewelry for signs of wear or damage, such as loose stones or clasps. If you notice any issues, take your jewelry to a professional jeweler for repair.

By following these expert care tips, you can keep your precious jewelry looking its best for years to come. Whether you're cleaning a simple chain or a cherished engraved piece, a little attention and care will go a long way in preserving your jewelry's beauty and value.

FAQ

WHAT IF THE JEWELRY DOESN'T FIT?

Our adjustable jewelry is designed to comfortably fit 99.6% of people. In the rare case that it doesn't fit perfectly, we will gladly provide a free replacement. Simply contact our support and we will get back to you within 24 hours.

DO YOU SHIP TO MY COUNTRY?

We offer worldwide shipping, with a few exceptions. Due to high delivery costs, we currently cannot ship to Bahrain, Ghana, Guatemala, Isle of Man, British Indian Ocean Territory, Jordan, Kuwait, Lebanon, Morocco, Mauritius, Malawi, Mozambique, Qatar, and Trinidad and Tobago.

IS YOUR JEWELRY NICKEL-FREE?

Yes, our jewelry is 100% nickel-free and hypoallergenic.

WHAT IF I HAVE AN ISSUE WITH MY ORDER?

We stand by our products with a lifetime quality guarantee and a 180-day returns policy. If you're not completely satisfied with any aspect of your order, simply contact our support team with your order details, and we will do our best to find the exact solution you'd be the most happy with.

WHY ARE YOUR PRICES SO AFFORDABLE?

We believe in offering quality products at fair prices. By cutting out third-party retailers, wholesalers, and agencies, we're able to save you up to 50% compared to our competitors. Our jewelry is designed and shipped directly by us, eliminating those pesky middlemen and keeping prices affordable.

HOW DO I CARE FOR MY JEWELRY?

For engraved and inked jewelry, simply wipe gently with a damp cloth.

For non-engraved silver pieces, follow this easy cleaning process:

Fill a bowl with boiling water.
Add 1/4 cup of baking soda and two teaspoons of kosher salt to the water and stir.
Mix the solution well and place your jewelry into the bowl.
Allow it to sit for five minutes. Once cooled, remove the item and dry thoroughly with a soft cloth.

For more detailed cleaning and care instructions, please visit our dedicated jewelry care

page

.

WHAT IS YOUR RETURNS AND REFUND POLICY?

We offer a 180-day returns policy. If at any point during this period you decide to return your jewelry, you will receive a full refund within 1-5 business days.

In addition to our 180-day returns policy, we provide a lifetime quality guarantee. In the unlikely event that your jewelry breaks, you're eligible for a free replacement for life.




HOW LONG WILL MY ORDER TAKE TO ARRIVE?

Customer Satisfaction Guarantee

We are confident that you'll adore your jewelry. That's why we offer a hassle-free, 180-day satisfaction guarantee. If, for any reason, you're not completely smitten with your purchase, you can choose between a full refund or a replacement during this period. Every order is covered by our 180-Day Warranty & Shine Guarantees.




Our dedicated customer support team is available 24/7 to assist you with any questions or concerns. Simply reach out to us here:

support@awareness-avenue.com

. Your satisfaction is our top priority, and we're committed to making your online shopping experience as enjoyable and stress-free as possible.